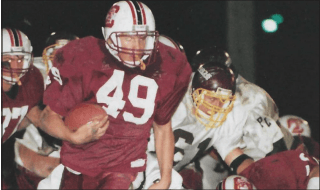 Nick Gragert will be inducted this Thursday during the Discoverer Athletic Hall of Fame Banquet.  He will also be announced at Friday's CHS pep rally and will be announced at Friday night's football game against rival the Norfolk Panthers.
Nick Gragert was an outstanding all-around athlete earning nine letters in football, wrestling and track. In track he earned numerous medals excelling in the hurdles, shot put and discus. In wrestling, Nick placed fifth at 189 lbs in the State Wrestling.
Tournament his sophomore season. During his senior year,Nick was a State Champion at 215lbs., while wrestling the last minute of the championship match with a torn tendon.  In football, Nick was an outstanding fullback and linebacker.  He was named to the All-State
Second Team his senior season.   Nick was named one of the top fifty high school linebackers in the country by Street and Smith's Magazine.
Nick walked-on at the University of Nebraska and was part of two Big Twelve Titles and one National Championship Team.