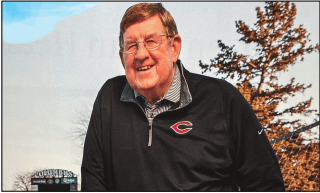 Richard "Dick" Luebbe is a meritorious inductee that will be inducted this Thursday during the Discoverer Athletic Hall of Fame Banquet.  He will also be announced at Friday's CHS pep rally and will be announced at Friday night's football game against rival the Norfolk Panthers.
Richard "Dick" Luebbe began his 50-year coaching career at Columbus High School in 1971.  Throughout that span, Dick coached wrestling,
basketball, track, and football. He was an amazing motivator and mentor.
Coach Luebbe proudly led the Discoverers football team for 27 years, including 10 state playoff and 4 semifinal appearances.  Dick was honored to coach over 30 All-State football players and numerous Shrine Bowl participants.  He was honored to be selected the Head Coach of the Nebraska High School All-Stars in the 1992 Down Under Bowl in Australia, Shrine Bowl Head Coach in 1989 and Assistant in 1986.  Dick's knowledge of football was unsurpassed, with his teams being known for tough defense, veer-option offense, playing with discipline and enthusiasm.
Dick also coached track for 50 years, serving as the head boys track coach for 28, coaching several state champions.  Most importantly,
Coach Luebbe cared for each of his players personally and made his athletes better people.