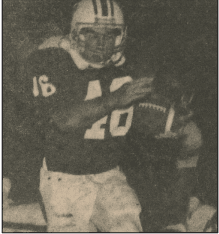 Steve Sliva will be inducted this Thursday during the Discoverer Athletic Hall of Fame Banquet.  He will also be announced at Friday's CHS pep rally and will be announced at Friday night's football game against rival the Norfolk Panthers.
Steve was a three-year letter winner in football and track.  In track he excelled in the sprints and long jump. In his senior football season, he was on a team dubbed the "Cardiac Kids" winning both the East Big 10 and Trans Nebraska Conferences plus a berth in Class A football playoffs. Steve earned first team All-Conference and first team All-State.
Steve was also presented the Bob Murry award and selected for the Shrine bowl.  He ended his senior football season second in Class A with 1402 total yards. Steve was awarded a football scholarship to the University Nebraska at Omaha and was presented with the Outstanding Back award in 1985.