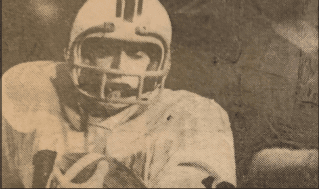 Tom Alt is an athlete inductee that will be inducted this Thursday during the Discoverer Athletic Hall of Fame Banquet.  He will also be announced at Friday's CHS pep rally and will be announced at Friday night's football game against rival the Norfolk Panthers.
Tom Alt loved football and earned two letters for Columbus High. He was a quarterback and defensive back for the Discoverers.  Tom was named All-Conference in the East Big Ten and Trans Nebraska Conferences his senior season.  He was selected to play in the Shrine Bowl game his senior year.  He was named to the First Team All Class All State football team. 

Tom currently holds the Columbus High School record for the most passes intercepted in a season with 9.  He was named the recipient of
the Dave McNair Award.  Tom played for two seasons in basketball and earned one letter while playing varsity.  He was an all-around player especially on the defensive end of the court.